Nippers is a fun program designed to teach kids surf safety and awareness. Nippers learn the traditional Surf Sports such as surf swimming, board riding, beach flags and sprints. Nippers also get an introduction into surf lifesaving through an awards system. The older age groups are taught skills such as CPR/First Aid and surf rescues. Younger age groups are taught how to stay safe at the beach through fun games based, activities.
Each week, all nippers must be signed in and out by a parent or guardian at the commencement or completion of Nippers Activities. Please note that this is not a learn to swim program and all parents are required to remain in the area for the duration of Nippers Activities.
About Our Nippers Program
Dates and Times
The Nippers season starts on the first weekend in October and runs every Sunday from 8:30-1030. We do ask that children and parents be on the beach by 8:15 to sign on and be ready for an 8:30 start.
Uniforms
Nipper Caps and high visibility rash shirts are compulsory and are to be worn by all nippers. U6 & U7 wear fluor green caps and all other age groups wear black/white/yellow club caps. Our bright pink rash shirts allow for easy visibility of our Nippers and a crucial part in keeping them safe both in the water and on the beach.
Our water safety personnel wear bright orange rash shirts for easy recognition for our young ones.
Club Caps – $10
Rash Shirts – $20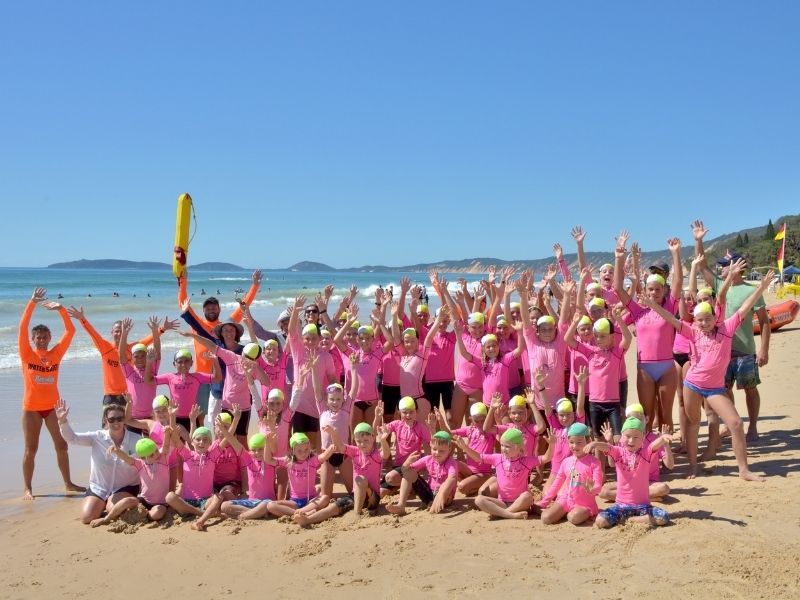 Parent Participation 
Nippers is run by volunteers and the support of parents in the various roles in crucial. There are many roles our parents or carers can take on. The roles needed to be filled each week are:
Set up/pack down
Trailor
Uniforms
Sign-on desk
Assistant Age Managers
Our Age Managers are the most crucial role within Nippers as without them the program would not be able to run. If you would like to become an Age Manager, the process is quite easy and comes at no cost to you. If you would like to take on this active role within our club please make contact with our Junior Activities Co-Ordinator.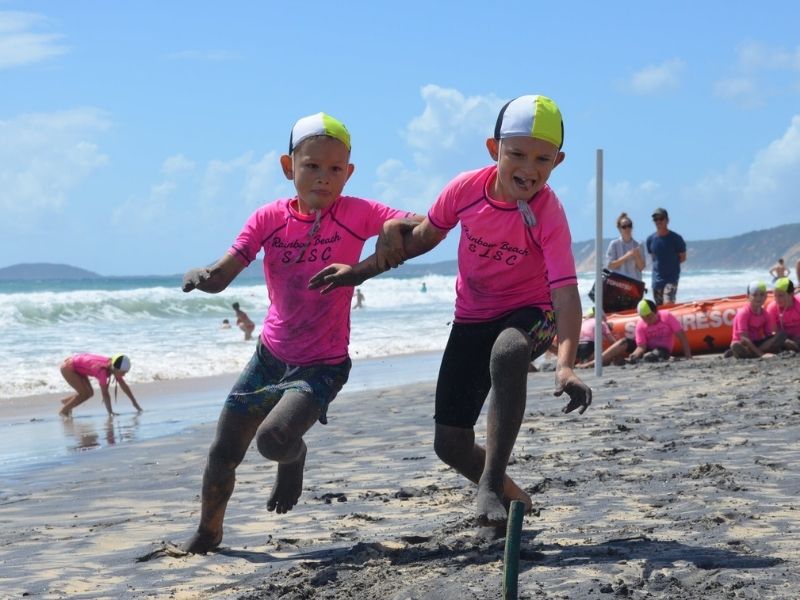 SKILLS EVALUATION
All children must demonstrate a reasonable level of swimming ability by completing pool and beach skills evaluation before participating in any beach activities. A table outlining the skill level required can be found below.
The club runs two sign-on days at the local pool in the weeks prior to the commencement of the Nippers program where you are able to complete your sign on paperwork and the kids can complete their pool swim evaluations with one of our Junior Activity Accreditation Officers. If you are not available for either of these, the pool swim can be completed by any qualified swim coach.
Click BELOW to download the Pool Swim Evaluation form (please note a copy of the swim coaches licence/qualifications is also required).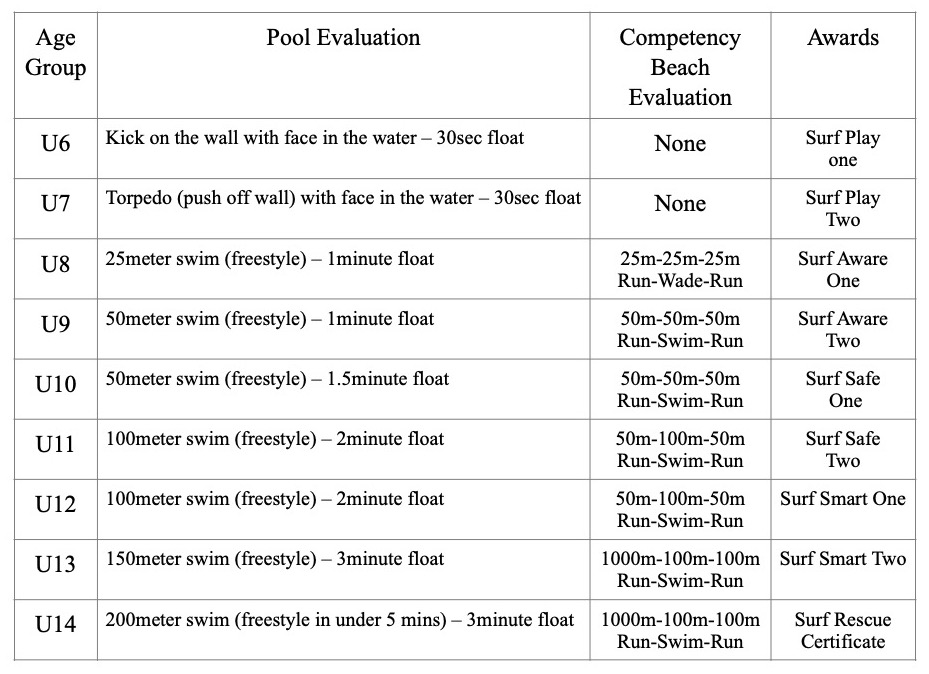 Membership
Nipper – $55
Associate – $75
Family – $170
This entitles the member to a full club membership (including the Supporters Club), full use of Surf Club Equipment, training and SLSA affiliation fees for each member.
It is a requirement that for each child one parent must join as an Associate member.
Blue Cards
In compliance with our Child and Youth Risk Management Strategy, each parent or guardian is required to hold a Blue Card for working with children. There is no cost in obtaining this and can be done online via Blue Card Services once you have created a Blue Card account please contact the club and we can arrange for you to be linked to SLSQ. If you have any queries please contact our administrator who is happy to help.  on 07 5486 3249.
Contact Us – Administration – 07 5486 3249 or surf@rainbowbeachsurf.com.au